Model Data Kari Sweets
Content Table

| | |
| --- | --- |
| Updates | 1 |
| Slips | 4 |
| Photos | 162 |
| Outtakes | 40 |
| Leftovers | 62 |
Bio Table

| | |
| --- | --- |
| Country | U.S. |
| DOB | June 16 |
| Age | 18 |
| Height | 5' 3" |
| Weight | 115 lbs. |
| Bust | 34-B |
| Shoes | 7 |
Hairy Kari - The Star Panty Slips
Kari Sweets
---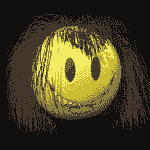 This amateur photoset starts with a snapshot showing that Kari had probably just applied lip gloss. She seemed unprepared for this set, especially since her crotch was unshaven, with a few days of growth down there. The decision to take this photo set was probably spontaneous. Maybe she and her boyfriend were getting ready to make fuck since she was already topless. Perhaps, she grabbed her red and yellow scarves and said, "Hey, this matches my panties. Let's take pictures.
The Culling
During the culling process, I experienced one of those just struck gold moments. "Wait, what was that? Click and go the fuck back! Wow, three-quarters of one of Kari's nips—plus three star panty pussy slips!" I thought, oh boy, Kari fans are going to love this.
Poof—Goes the Panties
With a little focus, you may notice that Kari's thong panties are gone. Then, ten shots later, miraculously, they got put back on. The point is that even though the pictures include hand-over/finger-over shots, they still show a lot! Especially the unshaven-ness-ism going on down there!
Rating
I rate this set a 10/10. I added four pictures to my "slip collection" and six-teen shots to my "5-star collection" in Lightroom. Also, I was delighted to see the two legs spread wide shots. I love that pose, and maybe you do too; who knows?